The 7kg-limited packing list
Because the most restrictive of airlines I'm flying has a carry-on allowance of 7kg (about 15lb), I had to consciously choose what to bring with me. My top priority for any item was for it to be as lightweight as possible, and I balanced that with other features (e.g., anti-theft, quick-drying).
My backpack weighs 6.6kg, and my travel jacket and neck stash weigh 2.1kg.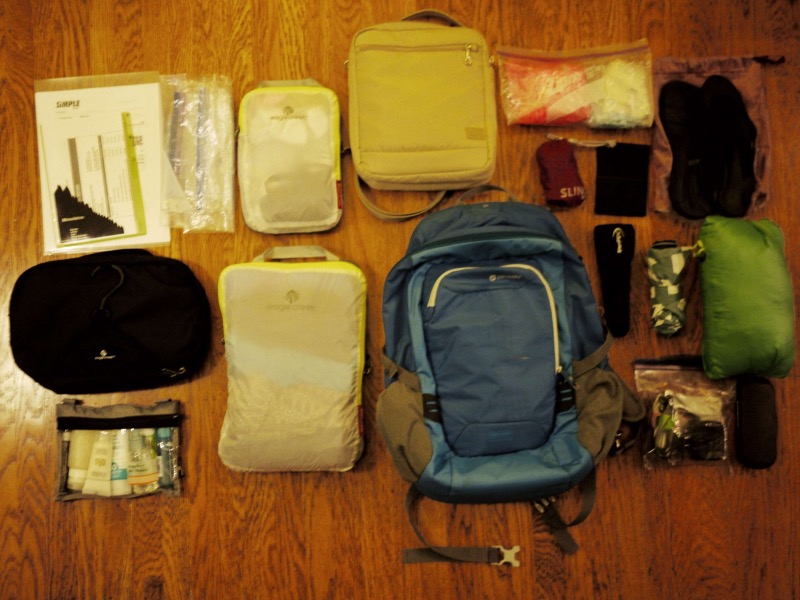 Luggage
Cards
Identification
California driver license
US passport
Handwritten business cards
Finances
Clothing
Tops
Bottoms

Tights (for layering in cold weather and to double as pajama pants)

Undergarments
Outerwear
Shoes
Accessories
Electronics
Screens
Power

Micro USB cable
Power brick

Audio

Apple earbuds (came with iPhone)
Airline headphone adapter (just in case)
Personal care
Chewing gum
Tissues
Wet wipes
Face mask
Handkerchief
Folding hair brush (from previous hotel stay)
Oral care

Toothbrush (from previous hotel stay)
Toothpaste
Tongue cleaner
Night guard

Pads and pantyliners
Exfoliating mesh soap saver (with some saved bar soap)
Bar shampoo from Lush
Liquids

Mineral-based sunscreen (zinc oxide 19%)
DEET-based mosquito repellent
Grapefruit-scented air freshener
Hand sanitizer
Facial soap
Body lotion

Pacman bandages (3)
Rubber bands (2)
Hair bands (2)
Medication
Antihistamine (Zyrtec)
Anti-diarrheal medication

Over-the-counter agent (Imodium A-D)
Antibiotic (Cipro)

Birth control (Nuvaring)
Motion sickness patch (Transderm Scop)
Pain relief (Tylenol)
Sleep aid (Ambien)
Stationery
Other
Compact umbrella (from Loft)
Empty plastic zipper bags
Copies of transportation tickets and passport
Written on July 15, 2016