Tasting on Meißen and Dresden
With my amazing Couchsurfing hosts Nathalia and Marcel, I was able to try some delicious vegan food, including a vegan spin on a traditional German dinner. It was also federweißer season, so I tried some from the Saxony region.
The currency in Germany is the euro (€), and at the time of writing, the exchange rate was about €0.9 to US$1. All businesses are listed from most budget-friendly to least within each category.
Coffee & drinks
Der Weinladen
Elbstraße 11, 01662 Meißen, Germany
My hosts let me borrow a bike to visit the old town, and I noticed a wine shop selling Saxony federweißer for €8.50 for 1L. I couldn't read any German, but I found out later that they were supposed to charge €10 if I wanted to drink it at the shop vs. €8.50 for takeaway. I guess the shopkeep didn't speak enough English to tell me the difference and ask me for the extra €1.50 when I requested a wine glass to drink it at a table just outside.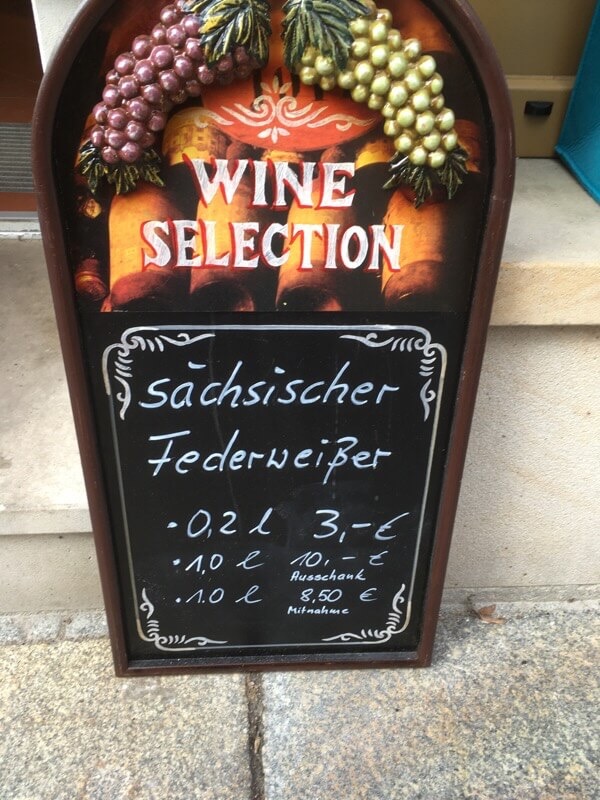 To be honest when I began the transaction, I thought I would take the bottle home to share with my hosts. But after the shopkeep swiped my credit card, I remembered that there wasn't a great place to secure the bottle or prevent any bumps in the road from causing an explosion. So I had to drink the entire bottle to prevent disaster.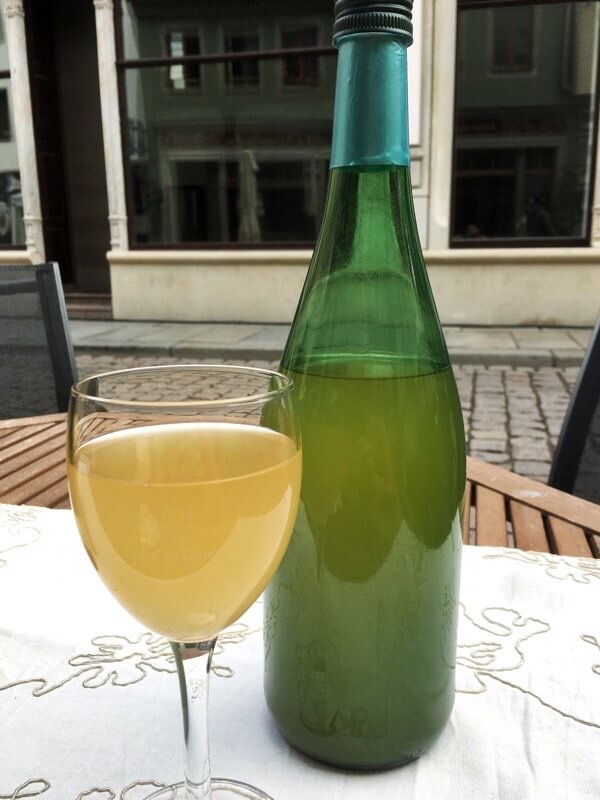 There was a little stand in the square nearby selling rostbratwurst for €2, so I got one to accompany my drink. Although the traditional food to have with federweißer is onion cake ([zweibelkuchen][zeiwbelkuchen]), the rostbratwurst hit the spot.
Desserts & ice cream
Eiscafe Venezia
Heinrichspl. 5, 01662 Meißen, Germany
This ice cream shop is Nathalia's favorite one in Meißen. It's right in the little square near Der Weinladen. Sampling doesn't seem to be commonplace in Germany, but I did convince the scooper to give me a taste of the blackberry sorbet. It had too many large seeds in it for me to buy it. Instead, I got scoops of the fig sorbet and mango lassi ice cream (€1.20 per scoop). They tasted well-made, but there didn't seem to be any particularly German flavors.
Café V-cake
Rothenburger Str. 14, 01099 Dresden, Germany
Nathalia's favorite cafe in Dresden is V-cake. Surprise: everything is vegan! And the interior is adorable.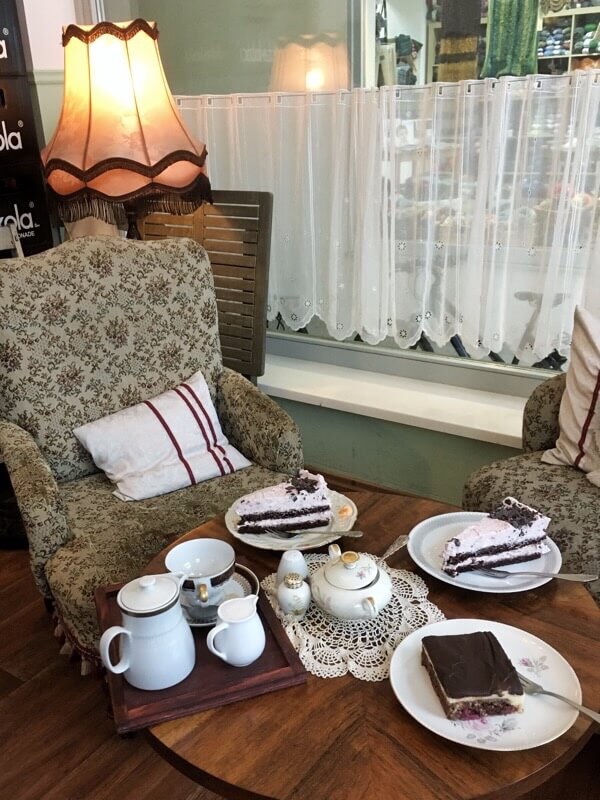 Good thing Nathalia arrived early: she reserved the last two slices of raspberry cream cake (€3.70). Marcel ordered a slice of donauwelle (€3.30) and a pot of coffee (€3.10). Nathalia got a latte macchiato (€2.50) with a spoonful of nutella (€0.30). I loved the raspberry cream cake! I wonder if I can figure out how they made it.
Grocery stores & homemade food
REWE
15, Neumarkt 9, 01662 Meißen, Germany
I love grocery stores because they give a glimpse into what locals actually eat. REWE is no exception. Thanks to them, I got to try reibekuchen (€1.29), which I could microwave quickly for breakfast.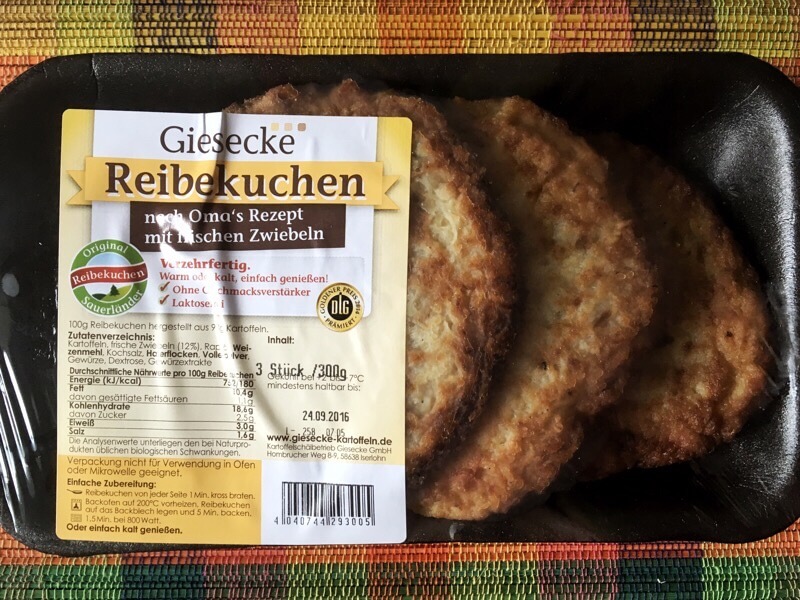 Nathalia is a fan of marzipan kartoffeln (€0.99), but I thought the ones from the store were too sweet to finish in one go. When I make my own, I'll be toning down the sugar content.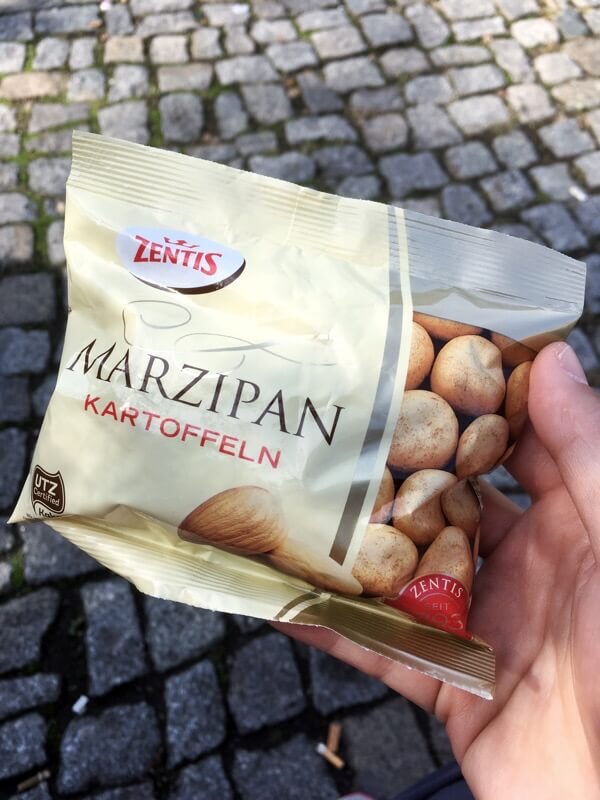 I was afraid I wouldn't get to try any beer from Meissen Schwerter before leaving the area, but I found a 0.5L bottle of their pilsner for €0.77 at a location in Dresden.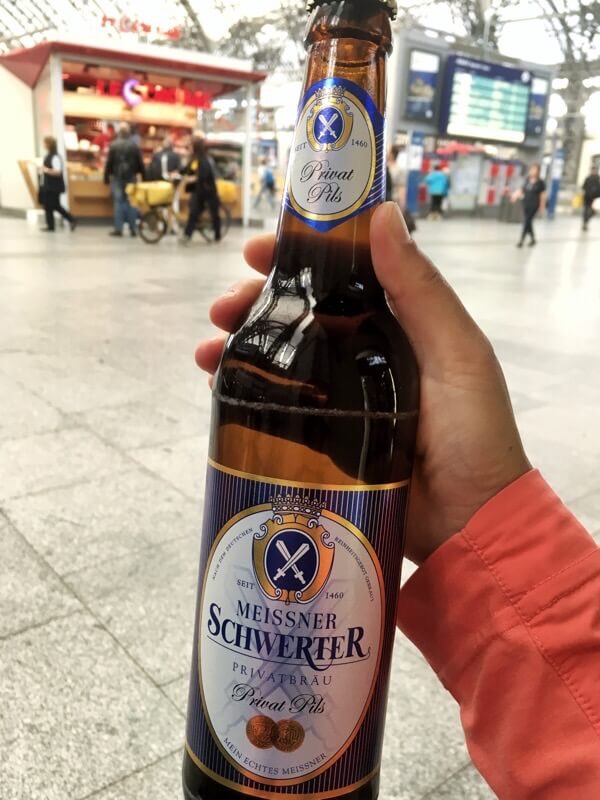 Nathalia & Marcel's kitchen
Not only did Marcel make tasty vegan pizza and his famous cauliflower soup, but he also whipped up a delicious version of German meatballs (made of tofu), mashed potatoes, and sauerkraut. Their kitchen is so inspiring, and I hope I can incorporate more vegan meals into my diet after I get home.
Restaurants
Café & Konditorei Schreiber
Elbstraße 31, 01662 Meißen, Germany
I didn't find zweibelkuchen until hours after I'd finished my bottle of federweißer at Scheiber. The shopkeep wanted to make sure I knew it was onion cake when I asked for a slice (€1.50/slice for takeaway), and the Saxon apple tort (€1.45/slice for takeaway) was also yummy. I recommend throwing them in the microwave for 15 seconds to make it taste more like freshly made pie.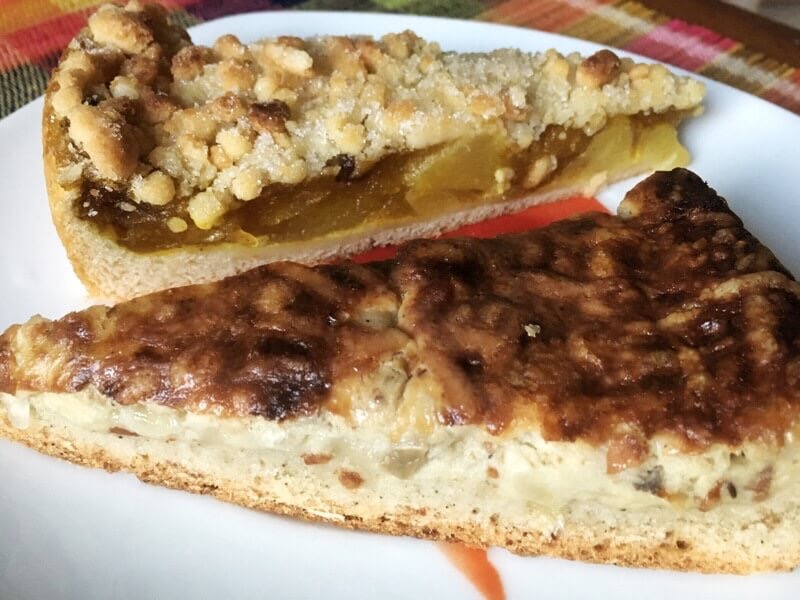 Written on September 22, 2016